Overview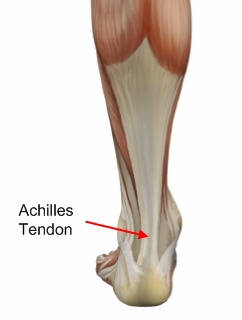 The Achilles tendon is the confluence of the independent tendons of the gastrocnemius and soleus, which fuse to become the Achilles tendon approximately 5 to 6 cm proximal to its insertion on the posterior surface of the calcaneus. The gastrocnemius and soleus muscles, via the Achilles tendon, function as the chief plantarflexors of the ankle joint. This musculotendinous unit provides the primary propulsive force for walking, running, and jumping. The normal Achilles tendon can withstand repetitive loads near its ultimate tensile strength, which approach 6 to 8 times body weight.
Causes
Achilles tendon rupture occurs in people that engage in strenuous activity, who are usually sedentary and have weakened tendons, or in people who have had previous chronic injury to their Achilles tendons. Previous injury to the tendon can be caused by overuse, improper stretching habits, worn-out or improperly fitting shoes, or poor biomechanics (flat-feet). The risk of tendon rupture is also increased with the use of quinolone antibiotics (e.g. ciprofloxacin, Levaquin).
Symptoms
Symptoms include a sudden sharp pain in the achilles tendon which is often described as if being physically struck by an object or implement. A loud snapping noise or bang may also be heard at the time. A gap of 4 to 5 cm in the tendon can be felt which may be less obvious later as swelling increases. After a short while the athlete may be able to walk again but without the power to push off with the foot. There will be a significant loss of strength in the injured leg and the patient will be unable to stand on tip toes. There may be considerable swelling around the achilles tendon and a positive result for Thompson's test can help confirm the diagnosis.
Diagnosis
A staggering 20%-30% of Achilles tendon ruptures are missed. Thompson (calf squeeze) test is 96% sensitive and 93% sensitive. Unfortunately, some health practitioners fail to perform this simple clinical test. Ultrasound examination or an MRI can confirm an Achilles tendon rupture.
Non Surgical Treatment
Not every torn Achilles tendon needs an operation. Recent studies have shown that even a conservative treatment, i.e. immobilizingt the leg can lead to satisfactory healing successes. This requires, however, that the patient is fitted with a cast (immobilization splint) and/or a special boot for a period of approximately 6 - 8 weeks. After that, the boot must be worn during the day for about two more weeks. An intensive physiotherapy will start after about six weeks to train the calf muscles so that the initial coordination can be restored. Running training on flat ground can be started again after another 10 - 12 weeks. Studies show that the danger of a recurring torn tendon is higher after a conservative treatment opposed to an operative treatment. Depending on the type of treatment, about 10 - 15 percent of those affected can expect at some point to again suffer from a tear of the Achilles tendon. Moreover, in the non-operated cases, we see more often a significant permanent weakness of the footprint, particularly restricting the ability to participate in sports.
Surgical Treatment
Surgery for Achilles tendon rupture requires an operation to open the skin and physically suture (sew) the ends of the tendon back together, has a lower incidence of re-rupture than nonsurgical treatment. Allows return to pre-injury activities sooner and at a higher level of functioning with less shrinkage of muscle. Risks are associated with surgery, anesthesia, infection, skin breakdown, scarring, bleeding, accidental nerve injury, higher cost, and blood clots in the leg are possible after surgery. Surgery has been the treatment of choice for the competitive athlete or those with a high level of physical activity, for those with a delay in treatment or diagnosis, and for those whose tendons have ruptured again.